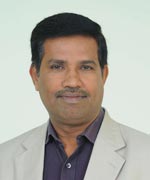 Prof. K. B. Chandra Sekhar
M.Sc., M.Phil., Ph.D.
At a Glance   |   Brief Profile   |   Bio-Data
Dr.K.B.Chandrasekhar, Professor of Chemistry, Jawaharlal Nehru Technological University, Anantapuramu and currently the Director of Foreign Affairs & Alumni Matters, was born on 1st January-1965, did his Bachelors of Science (B.Sc) from Sri Venkateswara University, Tirupati in 1986. Subsequently received Masters (M.Sc), Master of philosophy (M.Phil) and Doctor of philosophy (Ph.D) with specialization in Analytical Chemistry, Spanning the years 1986-2000 from Sri Krishna Devaraya University, Anantapur. Prof. K.B.Chandrasekhar began his professional career in the Noble field of Teaching as Asst. Professor, JNTUH in 1991, Later served as Associate professor (2000-2008) and to his credentials promoted as Professor of Chemistry in 2008 and soon became the Head, Department of Chemistry (2001-2008). In the year 2008, He was appointed as First Controller of Examination for JNTUA, Ananthapuramu. The signature mark of functioning leads him to serve in various administrative positions of University such as Director of Evaluation from (2010-2012), as Director of Research &Development (2012-2014) and Director JNTUA-Oil Technological and Pharmaceutical Research Institute (2014-2018). As a token of his research contribution in the career that is spanning a silver jubilee period, he ably guided 63 students to Ph.D and one M.Phil degree till date which is a rare feet to achieve.
Prof. K.B. Chandrasekhar was accorded the prestigious "Best Teacher" award in 2012 by the Govt. of Andhrapradesh. He has authored and presented over 55 Research papers in National and International forums held across India and aboard viz., Thailand, Malaysia, Macau, Singapore, Srilanka, Ethiopia, Dubai, Abudhadi, Germany and Indonesia. He has nearly 369 Publications in reputed National and International Journals and has grabbed Best Research Paper award From Indian Drug Manufacturers Association, Bombay in 2005. He also served as Convenor for many Academic events in JNTUA-Oil Technological and Pharmaceutical Research Institute, like workshops, seminars and conferences. He also presented A Research Paper in the 8th ICER -2016 held at Luebeck- Germany in July. He is a fellow of various professional bodies like ISTE, ISCA, ICC and International Journal of Chemistry and currently he is a Chairman BOS in Pharmacy for PG in JNTUA, for Sugar technology course PG offered by University of Mysore, BOS Member for several Autonomous Engineering colleges under JNTUA Affiliation and Chairman, Research Advisory Committee for Biotechnology (JNTUA). He is an Expert committee member for AICTE, UGC and JNTUA.
Prof. K.B. Chandrasekhar is honoured with award of "Research Excellence" for his vast knowledge in the area of Chemical and Pharmaceutical research at Indo Global Education Summit and Expo 2017 held at Bangalore organized by The Indus Foundation.
Additional Responsibilities 

Coordinator UGC XII Plan,
Coordinator Project Monitoring Cell, Wright State University, Ohio State, USA,
BOS Pharmacy (PG) Chairman-JNTUA,
Research Advisory Committee Chairman for Biotechnology-JNTUA,
BOS Chemistry (UG) Member- for Affiliated Engineering colleges,
Governing Body Member for various engineering / Pharmacy colleges.